Robert KLIPPEL (b.1920; d.2001)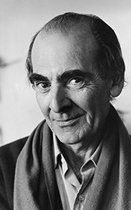 Robert Klippel is widely regarded as this country's foremost innovative sculptor.
Noted photographer Robert Walker's photograph of Robert Klippel in 1968 captures the essence of the sculptor's calm, thoughtful approach to building complex geometric sculptures.
Although born into a non-artistic family in 1920, Klippel displayed an early avid interest in building model ships. At just six years of age he made his first model ship after being taken on a ferry ride on Sydney Harbour. Drawn to executing exacting detail and with the keen eye required for model-building, Klippel quickly fine-tuned his skills and joined the Navy.
Klippel studied sculpting at East Sydney Technical College. Combining this training with his childhood hobby led to him being engaged to make model ships and aircraft by the Navy during World War II.
After the war however, Klippel left Australia to pursue his interest in the creative. Whilst studying at the Slade School of Art in London, he met expatriate Australian surrealist painter James Gleeson. The painter and the sculptor collaborated on several works including Madame Sophie Sesostoris (a pre-Raphaelite satire) 1947/48. The originator of Surrealism, Andre Breton arranged for Klippel's work to be exhibited in Paris.
After his affair with the surrealist ethic waned in the 1950s Klippel moved to New York where he developed a passion for abstract expressionism. He embraced the new aesthetic with passion. Klippel's original interest in scientific pursuits merged with his artistic endeavours and he moved into collage sculpture, joining found objects together into sculpture. By incorporating machine parts, pieces of wood and industrial piping, Klippel's work evolved into his now-famous "junk" assemblages or constructions.
After teaching in Minneapolis, Klippel returned to Australia in 1963 and set up his studio in Birchgrove. By then, the sculptor was enjoying international recognition. However it was not until 1964, when art critic Robert Hughes named Klippel as "one of the few Australian sculptors worthy of international attention" that he achieved recognition in Australia.
Klippel then worked extensively in Sydney, committed to making his very personal artforms. Along with "junk" assemblages fossicked from areas around his waterfront home in Balmain, he worked with drawing, collage and photography. Klippel also continued with the more "traditional" sculpture, working on several high profile public art commissions across Australia.
Klippel always believed that art "doesn't have to say something". Many of his works are untitled, simply identified by a number, a purposeful way of allowing the viewer to interpret what the artist may or may not be saying with the work. The sculptor remained an active artist up to his death in Sydney, on his 81st birthday, in June 2001. The Art Gallery of NSW paid tribute to the artist they deemed as 'Australia's greatest sculptor', 'a sculptor with iconic status'.
"Robert Klippel was Australia's greatest sculptor and arguably one of the most significant sculptors of his generation internationally. Klippel's particular vision, inspired by the intricacies and the profusion of our natural and man-made environments and by his quest for a spiritually relevant form, stands alone in the history of Australian art," said Deborah Edwards.

Robert Klippel is regarded as Australia's most important sculptor of the post-war 20th century period and will remain a distinguished figure in the history of Australian art.
Additional information