Julie DOWLING (b.1969)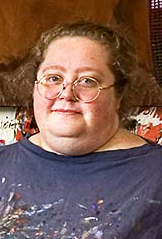 Julie Dowling is one of Australia's most recognizable portrait artists and is equally as well-known for her broader artistic themes which frequently highlight the issue of inequality between Indigenous and non-Indigenous Australians. Indeed, Dowling says 'I don't do paintings without people around, I don't feel like the work's accomplished anything unless it's been through the mill of the family' *
Her materials and methods include the use of both dark tones and bright colours, often involving gold and glitter. Though many of Dowling's works show vibrant colour, it could be said that her body of work is dedicated to the more profound purpose of demonstrating, "truth in black and white".
An early influencer towards portraiture and painting was a high school teacher of whom Dowling recalls: "There were two of us in the class, a wadjala and me. She taught us different. She had the other girl paint flowers and stuff and gave me subjects like Ghandi, Martin Luther King and Nelson Mandela. She told me to use my art as a tool of identity." **
Dowling was born at the King Edward Memorial Hospital for Women in the Perth suburb of Subiaco. Her identical twin sister, Carol, is an academic and radio documentary producer. Identifying both culturally and politically as a Badimaya First Nation woman rather than as an "Australian Aboriginal", she grew up in both semi-rural and urban areas in WA in a large Badimaya extended family. Historically, the Badimaya First Nation people are from the Gascoyne region around Ningham Station, Payne's Find, and Lake Moore some 380km north east of Perth.
Along with her mother Veronica, Dowling was strongly influenced by her maternal grandmother, Molly, who taught her much about her traditional culture; Molly had been taken from the Yalgoo area by her Irish father at the age of eleven and sent to a Catholic orphanage. The twins spent their early childhood with their mother and extended family, including Molly, in the outer Perth suburb of Redcliffe when it was mostly bushland. Her mother and the twins constantly moved between public houses around the Perth metropolitan area to escape welfare agencies who tried to take the children away.
There were other early influences in Dowling's development as an artist. While on train trips to visit their grandmother, their mother would point out people who might be trying to hide their Aboriginality, and would encourage Julie to sketch them while Carol would interview them. On "bush hunting" trips with her grandmother, Dowling said they'd find old books, Bibles, health manuals and the like.
"That's how I learned about art. It was a form of gathering information on the fringe, learning from it, knowing you have intelligence but not being able to access it. We'd translate the prejudice we felt by finding wadjala [white] information that was dumped, learn from it and use it. Mum calls it the 'keyhole effect' where you have a piece of ephemera and it takes you into a realm that was from our community first." **
In a documentary on the Stolen Generation, Julie Dowling describes herself and her twin sister as 'Aboriginal but white skinned, having shared life of rejection and abuse, identically overweight' (the) 'product of generations of damaged and displaced women. They were raised by their single mother as twin white waifs rejected at birth by their father and entirely dependent on welfare'.
Dowling's work makes bold statements about this heritage and comments on the history and culture of the Aborigines. Much of her imagery is about a personal connection. Some of her artworks are lyrical while others are confronting but all have something to say.
"My skin colour does not explain that I have experienced discrimination and seen racism inflicted upon my family," Dowling is reported as saying in relation to what she is aiming to communicate to a wider audience, drawing attention to the long history of suffering by indigenous people since Europeans came to Australia.
Dowling was awarded a Diploma of Fine Art at Claremont School of Art in 1989 at the age of twenty, a Bachelor of Fine Arts at Curtin University in 1992, an Associate Diploma in Visual Arts Management at Perth Metropolitan TAFE in 1995, and an Honorary Doctorate in Literature (Honoris Causa) from Murdoch University 2002. She held her first solo exhibition at Fremantle Arts Centre in Perth in 1995, and has since gained an outstanding reputation both in Australia and overseas as an artist of profound vision.
The evolution of her work continues to attract audiences in both Australia and overseas. In 2017, Dowling held a solo show, Yagu Gurlbarl (Big Secret), in the provincial town of Geraldton north of Perth on the theme of Slavery in Australia for First Nation people both in these past centuries and in current Australian society. Yagu Gurlbarl (Big Secret) The exhibition notes written by her twin Carol Dowling capture Julie Dowling's broader aim and the philosophy that has underscored her life and work:
"From diving for pearls to back breaking farm labour, from minding children of their colonial masters to present day work for government benefits, Dowling forces Australians to face racist discourses that First Nation people were/are lazy and a drain on society. An amnesia exists whereby Australian agriculture and other primary industries were founded on the slavery of its first peoples. The works in Dowling's exhibition speak of these atrocities and to show how beautifully resilient her people are despite this."
Dowling's work has been exhibited extensively in Australia and internationally, notably at Art Fair Cologne in 1997, Beyond the Pale: Contemporary Indigenous Art, 2000 Adelaide Biennial of Australian Art, and the RAKA AWARD. Dowling also holds an extensive list of awards and honours including Australia Council Development Grant, 1995; Finalist Portia Geach Memorial Award 1996; Winner - Mandorla Award for Religious Art and Winner (Painting) - 17th Telstra National Aboriginal and Torres Strait Islander Art Award 2000; The People's Choice Award; Winner, 18th Telstra National Aboriginal & Torres Strait Art Award 2001; multiple finalist in the Doug Moran Portrait Award and the Archibald Portrait Prize, and Portia Geach Memorial Award.
Dowling's art is represented in the collections of the Art Gallery of WA, Curtin University, Murdoch University, Artbank, National Native Title Tribunal, Kerry Stokes, Charles Sturt University, Kelton Foundation California, Kent-McNeil Inc. Canada, Flinders University, University of Southern Queensland, National Gallery of Australia, Museum and Art Gallery of the Northern Territory, Reconciliation Council of Australia, National Gallery of Victoria, and other public and private collections.
* BANNISTER, J. (2005) Interview with Julie Dowling, sound recording, John, J. S. Battye Library of West Australian History and National Library of Australia.

** Judith McGrath profile on Australian Art Collector's most collectable artist 2002.
Additional information